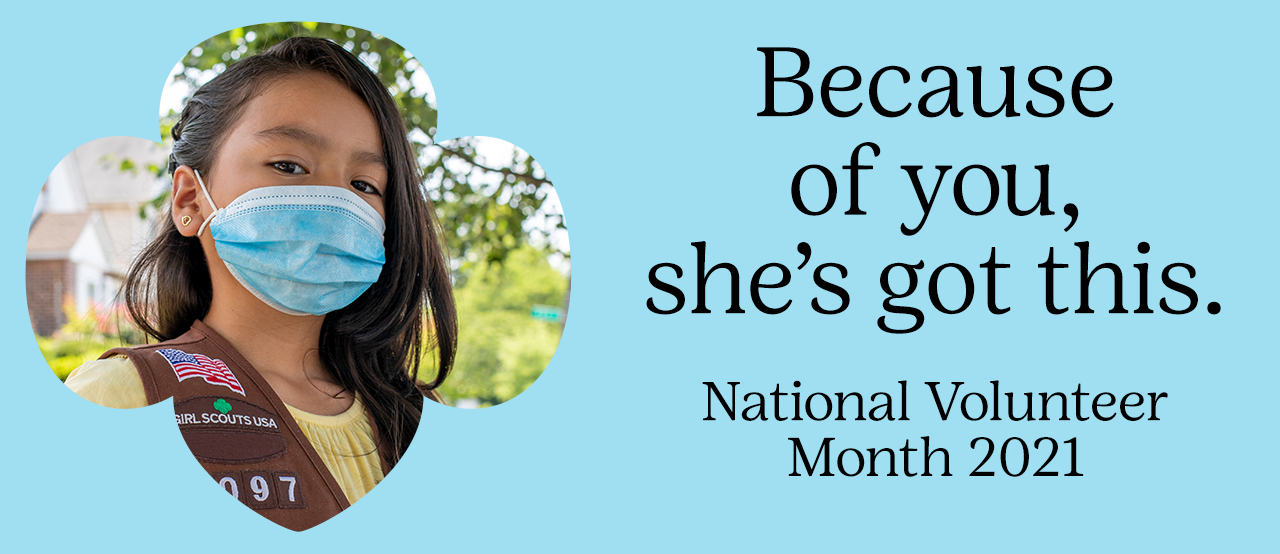 Volunteer Appreciation
Thank you to our amazing Girl Scout volunteers!
Keeping up with girls' ever-changing needs isn't always easy, but because of you, we've got this!
Today's girls need inspiration. They need role models and mentors. They need a sounding board for their innovative ideas and the knowledge that they'll have help bouncing back if their plans don't work out.
Girl Scouts is able to give them all this and more, thanks to the incredible efforts of our volunteers.
While April is officially National Volunteer Month, we are honored and grateful to have you representing the Movement every single day.

Ready for more volunteer love?
JOANN offers all active Girl Scout members a Girl Scout Rewards Card good for a 15% discount at JOANN stores and online. JOANN in turn gives GSUSA 2.5% of every eligible transaction made with the rewards card, for a guaranteed minimum donation of $100K.

Girl Scout families, you've got this.

Taking time to show your Girl Scout volunteers how much they mean to you and your community will inspire them to keep giving back and teach your girls the importance of valuing and celebrating other people's efforts.
Use Code VOLUNTEER2021 to get 10% off at GS Shop

Here are some simple ways to show volunteers you care:

Team up with other troop families to gift them a surprise from the Girl Scout Shop. When you use code VOLUNTEER2021,* you'll get 10% off!
Personalize one of our super cute and free thank-you cards.
Daisies | Brownies | Juniors 

(PDF)

 
Cadettes | Seniors | Ambassadors 

(PDF)

Bake a special treat to brighten their day.
Give them a glow-up with a special social media post.
Send a short video thanking them for all they've helped your troop accomplish.
Choose a project from Girl Scouts at Home to make and give to them.
*The code is active April 1 through April 30, 2021, for a 10% discount at girlscoutshop.com. The code is for one-time use per customer, online only, at girlscoutshop.com. The discount is not taken on any applicable shipping, handling, or taxes for each order.